A bit about Kolhapuri Chappals
Authentic Kolhapuri chappals (footwear) are made in and around Kolhapur district of Maharashtra, India and are Geographically Indexed (GI Marked). These sturdy and extremely durable slippers are handcrafted and made of the best quality leather. What's more, these eco-friendly slippers (use vegetable dyes) are said to be good for overall health of the user as they help reduce heat from the body.

Our Background
In 1973, our founder Shri Satappa Dhondiram More set up The More & Company to manufacture authentic Kolhapuri Leather Chappals at Mhalunge, a village in Kolhapur district of Maharashtra, India.
Steadily, over the years, extensive manufacturing upgrades were made to the initial setup. However, by 2014, our founder's son, Dr. Dileep More (Ph.D., IIT Bombay), felt the need for a more modern as well as an integrated organization to address the needs of changing customer taste and preferences. This led to the setting up of Divyam Leather Crafts Pvt Ltd, and later, the Korakari brand.
Divyam Leather Crafts is now engaged in manufacturing, sale and export of an extensive range of authentic and high quality handcrafted Kolhapuri Leather Chappals. We sell our chappals all over India through online as well as offline channels. Besides, we also export to Australia, USA, UK, and Sweden.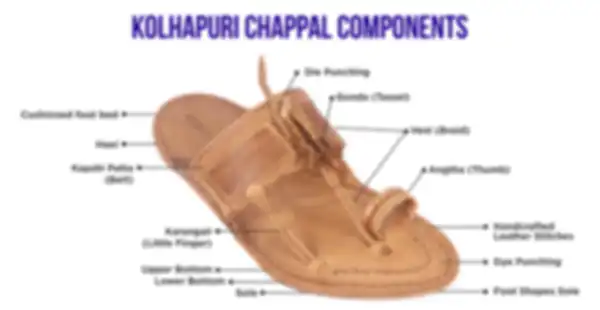 The Korakari Brand Story
Registering a company was the easy part. Arriving at a brand name took time. It had to be something memorable, distinct and easy to remember. It would be an added bonus if the brand name could reflect a bit of the product it would represent.
On a warm sunny morning in mid-2015, Dr More was supervising at his workshop in Kolhapur and mulling over a few catchy brand names that could capture the essence of this historical product. His son Divyam had also come along and like most curious children, was keenly observing the craftsmen working on their respective chappals from outside though an open workshop window.
It was clear that he was fascinated by the whole chappal making process; the intricate manner in which the craftsmen were crafting a leather, carving it, stitching it and eventually managing to turn it into an extraordinary pair of sandals.
Deciding to take a closer look, young Divyam enters the workshop and asked his father about the shoes lying around the workshop.
"They are Kolhapuri Chappals." answered Dr More indulgently.
Intrigued, Divyam repeated, "Ohh… Korakari Chappals".
You see, Divyam was still too young to correctly pronounce Kolhapuri. Furthermore, his father had a pair of sandals made just for him. Trying them on, he went skipping around the workshop exclaiming with delight, "Korakari Chappals…..Korakari Chappals".
That was a Eureka Moment for Mr More!
From that day forward, KORAKARI had to be the brand name for his products – a four syllable memorable alliteration which even a child could latch onto and croon. And the icing on the cake was that the word somewhat rhymed with Kolhapuri.
There was no looking back. That day a brand was born that today sells throughout India and even across the seas.
Our Offering
We offer our customers and clients a wide range of designs and styles of Kolhapuri Chappals:
Kapsi, Paper Kapsi, Kurundvadi, Shahu, High heel, Platform heel, Pointed, T-shape Chappals, and many more….
We offer 25 permanent and sunproof color shades:
Natural, Brown, Dark Brown, Yellow, Dark Yellow, Pink, Baby Pink, Tan, Black, Cherry Red, Rubin, Purple, Seaweed, Dark Blue, Light Blue, and more…
Each handmade chappal goes through a standardized step-by-step process:
Mapping, Cutting, Skiving, Pasting, Embossing, Marking, Stitching, Punching, Grinding.